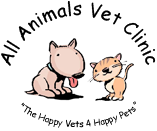 Pet training and behavioural problems

All Animals Vet Clinic now run puppy training courses (consisting of 4, once weekly sessions). To be eligible for these classes
the puppy must be under 5 months of age and fully vaccinated. Please contact the surgery for further details.

In addition our qualified Veterinary Nurse Jo has a special interest in feline behaviour, please contact the surgery to make an
appointment to chat to Jo about your problem pussy cat!