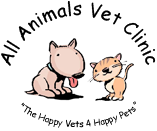 Online Store
All Animals Vet Clinic Online Store

Click here to be directed to All Animals Online Store Currently closed

This new online facility allows are customers to order items such as food and pet accesories from our online store, in addition to when visiting the surgery in person.

**Introductory Internet Only Offer**

When ordering from the online store you will receive a 10% discount to the Recommended Retail Price.

**Collection and Delivery**

Collection from the surgery is free of charge, otherwise a courier fee will apply to orders under £100.