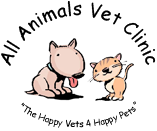 Vaccination and your pet
Vaccinations are essential to protect your pet against potentially fatal diseases. All vaccinations include a FREE health check and are priced less than our standard consultation fee.
For an important message to our clients regarding vaccination, please click here
Cats
Cats are vaccinated against Leukaemia, Enteritis and Flu viruses. Initially two injections are given 3-4 weeks apart, from 9 weeks of age. After the initial course an annual booster is required to maintain your pet's immunity.
Dogs
Dogs are vaccinated against Distemper, Parvovirus, Leptospirosis, Parainfluenza and Hepatitis.
Initially an injection to begin protection against Leptospirosis is given at 6-8 weeks of age, followed by an injection to provide immunity against Distemper, Parvovirus, Leptospirosis, Parainfluenza and Hepatitis at 10 weeks of age.
At one year of age the full injection against Distemper, Parvovirus, Leptospirosis, Parainfluenza and Hepatitis is given, but at 2 and 3 years of age just Parainfluenza and Leptospirosis are required. This protocol then continues on a 3 year cycle.
The reason behind the above protocol is that your dog maintains adequate immunity to Distemper, Parvovirus and Hepatitis for a three year period and so we do not wish to vaccinate against these diseases unnecessarily. Current studies indicate that protection against Leptospirosis and Parainfluenza is required every year.
Please be assured that All Animals Veterinary Clinic vaccinates your dog only as necessary to keep him/her healthy.
Kennel Cough
If your dog is going into kennels or socialises with a group of other dogs, (such as obedience or agility training or out on walks) then an additional Kennel Cough (Bordetella Bronchiseptica) vaccine may be required.
Rabies:
If your dog or cat is travelling abroad a rabies vaccination may be required. (Please contact the surgery for more information about the pet passport scheme or pet export).
Rabbits
As we live within a high risk area, rabbits must receive the Myxomatosis vaccine twice a year to provide immunity. We also recommend that Viral Haemorrhagic Disease is vaccinated against annually. Both of these diseases are fatal for rabbits.
Please remember all vaccinations include a free health check. Further information can be sent out on request. Please call 01375 399033 or email allanimalsvetclinic@hotmail.com for further details.