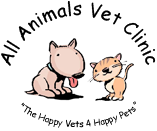 Pigeon Services
In addition to the small animal and exotic pet services offered within the practice, All Animals Vet Clinic offers a number of in house and postal pigeon diagnostic services, in addition to a number of Pigeon Heath Products.
Full Laboratory Test Kit
The full test kit can be carried out using samples provided by you via the post, or using samples collected when in a consultation with Lizzie in the surgery.

When a test kit is requested by post, we will send out everything required for you to collect and return the samples required for us to test your pigeons for the following conditions:
• Worms
• Cocci
• Canker
• Chlamydia (also known as Ornithosis)
• Yeast
• Fungus
• Adenovirus (also known as Young Bird Sickness)
• Salmonella (also known as Paratyphoid)

We will have also grow a general bacteriology plate in order for us to carry out an antibiotic sensitivity test. This will determine which antibiotic would be most useful should you be required to use one. Tests are available at a cost of £ 37.26.
Prescription Only Medicine
Due to current prescribing laws, enforced by the Royal College of Veterinary Surgeons, we cannot send prescription medicine through the post unless we have seen a pigeon from your loft within the last 6 months. In cases where prescription medicine is required we would ask you to either send a pigeon to the surgery for Lizzie to examine, or contact your local vet in order for them to prescribe you the medicine.